Belinda Strid
President
Email: b.strid@pcspacific.com
Belinda Strid is a proud mother of 3, wife, engineer, owner/manager of PCS, runner, fisherwoman, NiVanuatu and Australian.  Born in Newcastle, Australia, at 20 I joined the Australian Army for 10 years, mainly in satellite, data and radio communications.  I managed the 3G Telstra rollout for Northern Territory, before relocating to Vanuatu in 2007, to assist Digicel with the build of the new mobile phone network throughout Vanuatu, whilst also learning the trade of robust Off-grid Solar Systems for the telecommunications market.
After establishing the shopfront in 2012, our focus has been on understanding the customer's requirements, growing our team, both in numbers and an individual's capacity, and the provision of good quality products.  Whilst there is always room for improvement, we are always growing stronger, and we proudly support the Vanuatu off-grid market with strong, reliable and safe power solutions.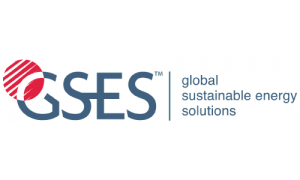 Geoff Stapleton
Secretary
Email: gses@bigpond.com  Website: www.gses.com.au
Geoff specialized in solar (PV) energy in the final year of his electrical engineering degree in 1981and then went on to obtain his electrician's license. He joined BP Solar Australia in 1987. In 1989 he started his own company on the south coast of NSW where he designed, installed and maintained off grid power systems. In 1998 he was one of the co-founders of Global Sustainable Energy Solutions Pty Ltd (GSES) and is still the managing director. Geoff has played an active role on committees within the various Australian solar/sustainable energy industry associations since 1991; a Member of Standards Australia Working Groups since the mid 1990's and for 10 years was a member and later Chair of the Renewable and Sustainable Technical Advisory committee that oversaw the ongoing management of renewable energy training units in Australia. Geoff has been an accredited designer and installer since 1994.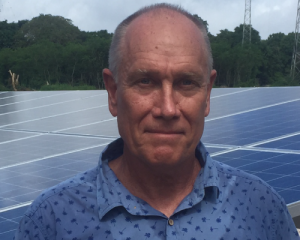 Bruce Clay
Treasurer
Email: bruce@clayenergy.com.fj
Bruce is the founder and General Manager of Clay Energy, a member of the Sunergise group. Based in Suva, Fiji and established in 1998 Clay Energy has grown into one of the region's leading renewable energy EPC companies with experience in delivering power solutions from small SHS to large hybrid and utility grid connected systems throughout the Pacific."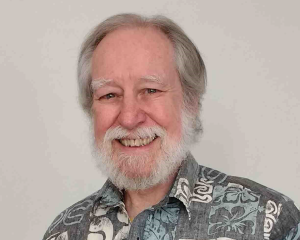 Peter Johnston
Committee Member
Email: johnston@unwired.com.fj
Director – Environmental & Energy Consultants (Fiji) ltd
Peter Johnston is a Fiji citizen with degrees in aeronautical engineering, technology policy and environmental management. He who has been involved in sustainable energy and environmental issues in the Pacific and to a lesser extent Southeast Asia since the late 1970s. He was Fiji's first Director of Energy in 1981, managed a UNDP-funded Pacific regional energy programme in the 1980s, was chief technical adviser for a national environmental advisory programme in Cambodia in the 1990s, and has been a consultant with ADB, DFAT, the EU, GIZ, GGGI, PRIF, SPC, SPREP, the World Bank and other regional and international organizations. He was lead consultant for ADB/PRIF and SPC for an external review of the 2010-2020 Pacific regional energy framework and for its 2021-2030 update.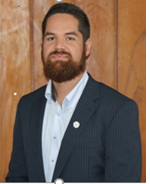 Nikolasi Fonua
Committee Member
Nikolasi Fonua is an Electrical and Electronics Engineer who also holds a Master's in Business Administration from the Nagoya University of Commerce and Business (NUCB).  He has worked for 10 years with the Electricity Utility in Tonga and has specific expertise in Project Management, Strategic Business Development and has also headed the Engineering Division of the utility. With strong business and engineering acumen his passions are in developing the energy industry to be more sustainable with a particular focus on the development of appropriately skilled talent within the industry. Ultimately his objectives are to see and realize the difference a sustainable energy industry can make in people's everyday lives.
Gavin Pereira
Committee Member
Email: gavin@climatecatalysts.com.au
Gavin started Superfly Limited in 2011. Superfly is a Solomon Islands solar energy engineering company that specialises in the design, supply and installation of off-grid PV systems. Gavin graduated from UNSW's solar energy engineering program in 2007 and has taken a keen interest in SEIAPI since moving to the Pacific region in 2011. It is Gavin's hope that he is able to help promote excellence in the Solar industry in Solomon Islands through promoting SEIAPI and through utilising Superfly's installations as an example of industry best practice.